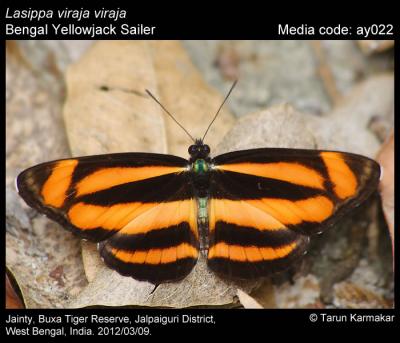 Subspecies in India
(1) Lasippa viraja viraja (Moore, 1872) – Bengal Yellowjack Sailer
(2) Lasippa viraja kanara (Evans, 1924) – Sahyadri Yellowjack Sailer
(3) Lasippa viraja nar de Nicéville, 1891 – Andaman Yellowjack Sailer
Photo Gallery and Species Biology
| State | Jan | Feb | Mar | Apr | May | Jun | Jul | Aug | Sep | Oct | Nov | Dec | No date |
| --- | --- | --- | --- | --- | --- | --- | --- | --- | --- | --- | --- | --- | --- |
| Andaman and Nicobar Islands UT | | | | | | | | | | | | | |
| Andhra Pradesh | | | | | | | | | | | | | |
| Arunachal Pradesh | | | | 1 | | | | | | | | | |
| Assam | | | | 2 | | | | | | | | | |
| Bihar | | | | | | | | | | | | | |
| Chandigarh | | | | | | | | | | | | | |
| Chhattisgarh | | | | | | | | | | | | | |
| Dadra & Nagar Haveli UT | | | | | | | | | | | | | |
| Daman & Diu UT | | | | | | | | | | | | | |
| Delhi | | | | | | | | | | | | | |
| Goa | | | | | | | | | | | | | |
| Gujarat | | | | | | | | | | | | | |
| Haryana | | | | | | | | | | | | | |
| Himachal Pradesh | | | | | | | | | | | | | |
| Jammu and Kashmir UT | | | | | | | | | | | | | |
| Jharkhand | | | | | | | | | | | | | |
| Karnataka | | | | | | | | 1 | | | | | |
| Kerala | | | | | | | | 3 | 1 | 1 | | 5 | |
| Ladakh UT | | | | | | | | | | | | | |
| Lakshadweep | | | | | | | | | | | | | |
| Madhya Pradesh | | | | | | | | | | | | | |
| Maharashtra | | | | | | | | | | | | 1 | |
| Manipur | | | | | | | | | | | | | |
| Meghalaya | | | | 4 | | | | | | | | | |
| Mizoram | | | | | | | | | | | | | |
| Nagaland | | | | | | | | | | | | | |
| Odisha | | | | | | | | | | | | | |
| Puducherry UT | | | | | | | | | | | | | |
| Punjab | | | | | | | | | | | | | |
| Rajasthan | | | | | | | | | | | | | |
| Sikkim | | | | | | | | | | | | | |
| Tamil Nadu | | | | | | | | | | | | 1 | |
| Tripura | | | | | | | | | | | | | |
| Uttar Pradesh | | | | | | | | | | | | | |
| Uttarakhand | | | | | | | | | | | | | |
| West Bengal | | | | | | | | | | | | | |
| Total | | | | 7 | | | | 4 | 1 | 1 | | 7 | |
Dalbergia lanceolaria (Kalesh S. pers. obs. 2017), Dalbergia latifolia (Davidson et al. 1896; Wynter-Blyth 1957) (Fabaceae). Dalbergia racemosa (Davidson et al. 1896; Wynter-Blyth 1957) (Fabaceae).
Key Reference:
Nitin, R., V. C. Balakrishnan, P. V. Churi, S. Kalesh, S. Prakash, and K. Kunte. 2018. Larval host plants of the butterflies of the Western Ghats, India. Journal of Threatened Taxa, 10:11495–11550.

For the complete list of larval host plants of Indian butterflies, see the page on larval host plants.
Hu, S.J., Cotton, A.M., Condamine, F.L., Duan, K., Wang, R.J., Hsu, Y.F., Zhang, X. and Cao, J., 2018. Revision of Pazala Moore, 1888: the Graphium (Pazala) mandarinus (Oberthür, 1879) group, with treatments of known taxa and descriptions of new species and new subspecies (Lepidoptera: Papilionidae). Zootaxa, 4441(3), pp.401-446.
Page citation
Anonymous 2023. Lasippa viraja (Moore, 1872) – Yellowjack Sailer. In Kunte, K., S. Sondhi, and P. Roy (Chief Editors). Butterflies of India, v. 4.12. Published by the Indian Foundation for Butterflies. URL: https://www.ifoundbutterflies.org/lasippa-viraja, accessed 2023/12/08.