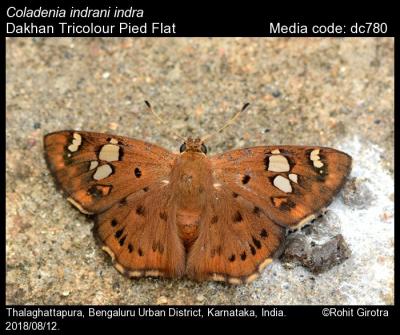 Subspecies in India
(1) Coladenia indrani indrani (Moore, [1866]) – Himalayan Tricolour Pied Flat
(2) Coladenia indrani indra Evans, 1926 – Dakhan Tricolour Pied Flat
(3) Coladenia indrani uposathra Fruhstorfer, [1911] – Indo-Chinese Tricolour Pied Flat
 
Photo Gallery and Species Biology
| State | Jan | Feb | Mar | Apr | May | Jun | Jul | Aug | Sep | Oct | Nov | Dec | No date |
| --- | --- | --- | --- | --- | --- | --- | --- | --- | --- | --- | --- | --- | --- |
| Andaman and Nicobar Islands UT | | | | | | | | | | | | | |
| Andhra Pradesh | | | | | | | | | | | | | |
| Arunachal Pradesh | | | | | | | | | | | | | |
| Assam | | | | | | | | | | | | | |
| Bihar | | | | | | | | | | | | | |
| Chandigarh | | | | | | | | | | | | | |
| Chhattisgarh | | | | | 1 | | | | | | 1 | | |
| Dadra & Nagar Haveli UT | | | | | | | | | | | | | |
| Daman & Diu UT | | | | | | | | | | | | | |
| Delhi | | | | | | | | | | | | | |
| Goa | | | | | | | | | 1 | | | | |
| Gujarat | | | | | | | | | | | | | |
| Haryana | | | | | | | | | | | | | |
| Himachal Pradesh | | | | | | | | | | | | | |
| Jammu and Kashmir UT | | | | | | 2 | | | | | | | |
| Jharkhand | | | | | | | | | | | | | |
| Karnataka | | | | | 4 | | 6 | 14 | 11 | 3 | | 2 | |
| Kerala | | 3 | 3 | | | 1 | 4 | 4 | 4 | 1 | 1 | 9 | |
| Ladakh UT | | | | | | | | | | | | | |
| Lakshadweep | | | | | | | | | | | | | |
| Madhya Pradesh | | | | | | 3 | | | 3 | 1 | | | |
| Maharashtra | 3 | | | | 3 | 12 | 23 | 27 | 16 | 10 | 8 | 3 | |
| Manipur | | | | | | | | | | | | | |
| Meghalaya | | | | 1 | | | | | | 2 | | | |
| Mizoram | | | | | | | | | | | | | |
| Nagaland | | | | | | | | | | | | | |
| Odisha | | | | | | | | | | 1 | | | |
| Puducherry UT | | | | | | | | | | | | | |
| Punjab | | | | | | | | | | | | | |
| Rajasthan | | | | | | | | | | | | | |
| Sikkim | | | | | | | | | | | | | |
| Tamil Nadu | | 2 | | 1 | 1 | 1 | | | | | | | |
| Tripura | | | | 2 | | | | | | 1 | 1 | | |
| Uttar Pradesh | | | | | | | | | | | | | |
| Uttarakhand | | | | | 2 | | | | | 1 | | | |
| West Bengal | | | 1 | | | 2 | 2 | | | | 3 | | |
| Total | 3 | 5 | 4 | 4 | 11 | 21 | 35 | 45 | 35 | 20 | 14 | 14 | |
Terminalia elliptica (Combretaceae). Mallotus philippensis
(Euphorbiaceae). Bauhinia racemosa, Dendrolobium triangulare, Desmodium, Dalbergia latifolia, Grewia nervosa, Xylia xylocarpa (Fabaceae). Kavalama urens, Talipariti tiliaceum, Thespesia populnea, Triumfetta rhomboidea (Malvaceae). Bridelia retusa (Phyllanthaceae).
Key Reference:
Nitin, R., V. C. Balakrishnan, P. V. Churi, S. Kalesh, S. Prakash, and K. Kunte. 2018. Larval host plants of the butterflies of the Western Ghats, India. Journal of Threatened Taxa, 10:11495–11550.

For the complete list of larval host plants of Indian butterflies, see the page on larval host plants.
Page citation
Saji, K, A. Soman, S. Mhatre, P. Churi and Manoj P. 2023. Coladenia indrani (Moore, [1866]) – Tricolour Pied Flat. In Kunte, K., S. Sondhi, and P. Roy (Chief Editors). Butterflies of India, v. 4.12. Published by the Indian Foundation for Butterflies. URL: https://www.ifoundbutterflies.org/coladenia-indrani, accessed 2023/12/03.