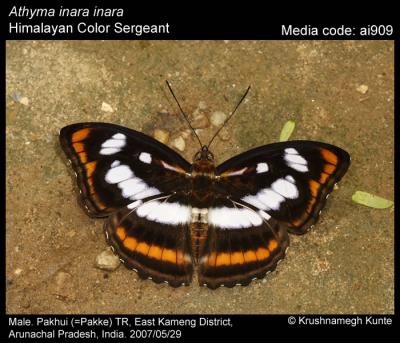 Subspecies in India
(1) Athyma inara inara Westwood, 1850 – Himalayan Colour Sergeant
Photo Gallery and Species Biology
| State | Jan | Feb | Mar | Apr | May | Jun | Jul | Aug | Sep | Oct | Nov | Dec | No date |
| --- | --- | --- | --- | --- | --- | --- | --- | --- | --- | --- | --- | --- | --- |
| Andaman and Nicobar Islands | | | | | | | | | | | | | |
| Andhra Pradesh | | | | | | | | 1 | | | | | |
| Arunachal Pradesh | | | 3 | | 1 | 1 | | | | | | | |
| Assam | 1 | | 6 | 2 | | 1 | 1 | | 5 | 7 | 6 | 4 | |
| Bihar | | | | | | | | | | | | | |
| Chandigarh | | | | | | | | | | | | | |
| Chhattisgarh | | | | 4 | | | 1 | | 2 | 1 | | | |
| Dadra & Nagar Haveli | | | | | | | | | | | | | |
| Daman & Diu | | | | | | | | | | | | | |
| Delhi | | | | | | | | | | | | | |
| Goa | | | | | | | | | | | | | |
| Gujarat | | | | | | | | | | | | | |
| Haryana | | | | | | | | | | | | | |
| Himachal Pradesh | | | | | | | | | | | | | |
| Jammu and Kashmir UT | | | | | | | | | | | | | |
| Jharkhand | | | | | | | | | | | | | |
| Karnataka | 12 | | | 4 | | | | | | 2 | 5 | | |
| Kerala | 9 | | | | | | | 3 | | 2 | 2 | 3 | |
| Ladakh UT | | | | | | | | | | | | | |
| Lakshadweep | | | | | | | | | | | | | |
| Madhya Pradesh | | | | | | | | | | | | | |
| Maharashtra | 7 | | | 1 | | | | | 4 | 12 | 3 | 4 | |
| Manipur | | | | | | | | | | | | | |
| Meghalaya | | | 1 | | | | | | | 2 | 3 | | |
| Mizoram | | | | | | | | | | | | 1 | |
| Nagaland | | | | | | | | | | | 1 | | |
| Odisha | | | | | | | | | | | | | |
| Pondicherry | | | | | | | | | | | | | |
| Punjab | | | | | | | | | | | | | |
| Rajasthan | | | | | | | | | | | | | |
| Sikkim | | | | | | | | | | 1 | | | |
| Tamil Nadu | | | | | | | | | 1 | 1 | | | |
| Tripura | | 5 | | | | | | | | 1 | 1 | | |
| Uttar Pradesh | | | | | | | | | | | | | |
| Uttarakhand | | | | | | | | | | | | | |
| West Bengal | | | | | | | | | | 2 | 2 | | |
| Total | 29 | 5 | 10 | 11 | 1 | 2 | 2 | 4 | 12 | 31 | 23 | 12 | |
Glochidion lanceolarium (Wynter-Blyth 1957), Glochidion heyneanum (Wynter-Blyth 1957), Glochidion zeylanicum (Wynter-Blyth 1957) (Phyllanthaceae). Mussaenda frondosa (Wynter-Blyth 1957) (Rubiaceae).
Key Reference:
Nitin, R., V. C. Balakrishnan, P. V. Churi, S. Kalesh, S. Prakash, and K. Kunte. 2018. Larval host plants of the butterflies of the Western Ghats, India. Journal of Threatened Taxa, 10:11495–11550.

For the complete list of larval host plants of Indian butterflies, see the page on larval host plants.
 
Page citation
Saji K., H. Ogale, and S. Debnath 2022. Athyma inara Westwood, 1850 – Colour Sergeant. In Kunte, K., S. Sondhi, and P. Roy (Chief Editors). Butterflies of India, v. 3.06. Published by the Indian Foundation for Butterflies. URL: https://www.ifoundbutterflies.org/athyma-inara, accessed 2022/09/29.