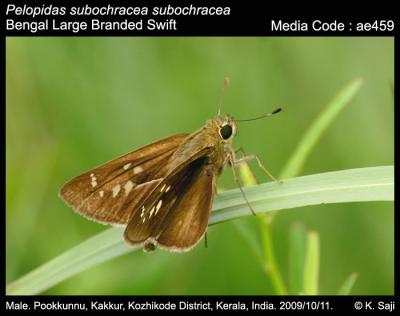 Subspecies in India
(1) Pelopidas subochracea subochracea (Moore, 1878) – Bengal Large Branded Swift
Photo Gallery and Species Biology
| State | Jan | Feb | Mar | Apr | May | Jun | Jul | Aug | Sep | Oct | Nov | Dec | No date |
| --- | --- | --- | --- | --- | --- | --- | --- | --- | --- | --- | --- | --- | --- |
| Andaman and Nicobar Islands UT | | | | | | | | | | | | | |
| Andhra Pradesh | | | | | | | | | | | | | |
| Arunachal Pradesh | | | | | | | | | | | | | |
| Assam | | | | | | | | | | | | | |
| Bihar | | | | | | | | | | | | | |
| Chandigarh | | | | | | | | | | | | | |
| Chhattisgarh | | | | | | | | | | | | | |
| Dadra & Nagar Haveli UT | | | | | | | | | | | | | |
| Daman & Diu UT | | | | | | | | | | | | | |
| Delhi | | | | | | | | | | | | | |
| Goa | | | | | | | | | | | | | |
| Gujarat | | | | | | | | | | | | | |
| Haryana | | | | | | | | | | | | | |
| Himachal Pradesh | | | | | | | | | | | | | |
| Jammu and Kashmir UT | | | | | | | | | | | | | |
| Jharkhand | | | | | | | | | | | | | |
| Karnataka | | | | 1 | | | | | | | | | |
| Kerala | | | | | | | | 1 | 1 | 4 | 13 | | |
| Ladakh UT | | | | | | | | | | | | | |
| Lakshadweep | | | | | | | | | | | | | |
| Madhya Pradesh | | | | | | | | | | | | | |
| Maharashtra | | | | | | | | | | | 1 | | |
| Manipur | | | | | | | | | | | | | |
| Meghalaya | | | | | | | | | | | | | |
| Mizoram | | | | | | | | | | | | | |
| Nagaland | | | | | | | | | | | | | |
| Odisha | | | | | | | | | | | | | |
| Puducherry UT | | | | | | | | | | | | | |
| Punjab | | | | | | | | | | | | | |
| Rajasthan | | | | | | | | | | | | | |
| Sikkim | | | | | | | | | | | | | |
| Tamil Nadu | | | | | | | | | | | | | |
| Tripura | | | | | | | | | | | | | |
| Uttar Pradesh | | | | | | | | | | | | | |
| Uttarakhand | | | | | | | | | | | | | |
| West Bengal | | | | | | | | | | | | | |
| Total | | | | 1 | | | | 1 | 1 | 4 | 14 | | |
Poaceae (Swinhoe 1913; Wynter-Blyth 1957), Axonopus compressus (V.C. Balakrishnan pers. obs. 2017) (Poaceae).
Key Reference:
Nitin, R., V. C. Balakrishnan, P. V. Churi, S. Kalesh, S. Prakash, and K. Kunte. 2018. Larval host plants of the butterflies of the Western Ghats, India. Journal of Threatened Taxa, 10:11495–11550.

For the complete list of larval host plants of Indian butterflies, see the page on larval host plants.
Page citation
Anonymous 2022. Pelopidas subochracea (Moore, 1878) – Large Branded Swift. In Kunte, K., S. Sondhi, and P. Roy (Chief Editors). Butterflies of India, v. 3.06. Published by the Indian Foundation for Butterflies. URL: https://www.ifoundbutterflies.org/pelopidas-subochracea, accessed 2022/11/27.