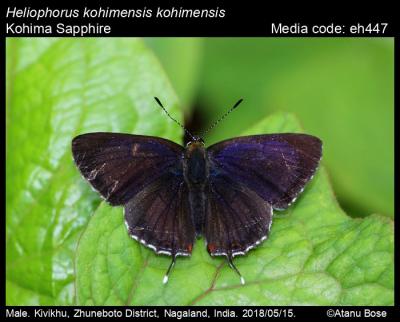 Subspecies in India
(1) Heliophorus kohimensis kohimensis (Tytler, 1912) – Kohima Sapphire
Photo Gallery and Species Biology
| State | Jan | Feb | Mar | Apr | May | Jun | Jul | Aug | Sep | Oct | Nov | Dec | No date |
| --- | --- | --- | --- | --- | --- | --- | --- | --- | --- | --- | --- | --- | --- |
| Andaman and Nicobar Islands UT | | | | | | | | | | | | | |
| Andhra Pradesh | | | | | | | | | | | | | |
| Arunachal Pradesh | | | | | | | | | | | | | |
| Assam | | | | | | | | | | | | | |
| Bihar | | | | | | | | | | | | | |
| Chandigarh | | | | | | | | | | | | | |
| Chhattisgarh | | | | | | | | | | | | | |
| Dadra & Nagar Haveli UT | | | | | | | | | | | | | |
| Daman & Diu UT | | | | | | | | | | | | | |
| Delhi | | | | | | | | | | | | | |
| Goa | | | | | | | | | | | | | |
| Gujarat | | | | | | | | | | | | | |
| Haryana | | | | | | | | | | | | | |
| Himachal Pradesh | | | | | | | | | | | | | |
| Jammu and Kashmir UT | | | | | | | | | | | | | |
| Jharkhand | | | | | | | | | | | | | |
| Karnataka | | | | | | | | | | | | | |
| Kerala | | | | | | | | | | | | | |
| Ladakh UT | | | | | | | | | | | | | |
| Lakshadweep | | | | | | | | | | | | | |
| Madhya Pradesh | | | | | | | | | | | | | |
| Maharashtra | | | | | | | | | | | | | |
| Manipur | | | | | | | | | | | | | |
| Meghalaya | | | | | | | | | | | | | |
| Mizoram | | | | | | | | | | | | | |
| Nagaland | | | | | 4 | 1 | | | 2 | 4 | | | |
| Odisha | | | | | | | | | | | | | |
| Puducherry UT | | | | | | | | | | | | | |
| Punjab | | | | | | | | | | | | | |
| Rajasthan | | | | | | | | | | | | | |
| Sikkim | | | | | | | | | | | | | |
| Tamil Nadu | | | | | | | | | | | | | |
| Tripura | | | | | | | | | | | | | |
| Uttar Pradesh | | | | | | | | | | | | | |
| Uttarakhand | | | | | | | | | | | | | |
| West Bengal | | | | | | | | | | | | | |
| Total | | | | | 4 | 1 | | | 2 | 4 | | | |
Hemming, F. 1934. Revisional notes on certain species of Rhopalocera (Lepidoptera). Stylops, 3:193-200.

Racheli, T. and A. M. Cotton. 2009. Guide to the Butterflies of the Palearctic Region. Papilionidae, Part I. Omnes Artes, Milano, Italy.
Page citation
Anonymous 2022. Heliophorus kohimensis (Tytler, 1912) – Naga Sapphire. In Kunte, K., S. Sondhi, and P. Roy (Chief Editors). Butterflies of India, v. 3.06. Published by the Indian Foundation for Butterflies. URL: https://www.ifoundbutterflies.org/heliophorus-kohimensis, accessed 2022/12/02.